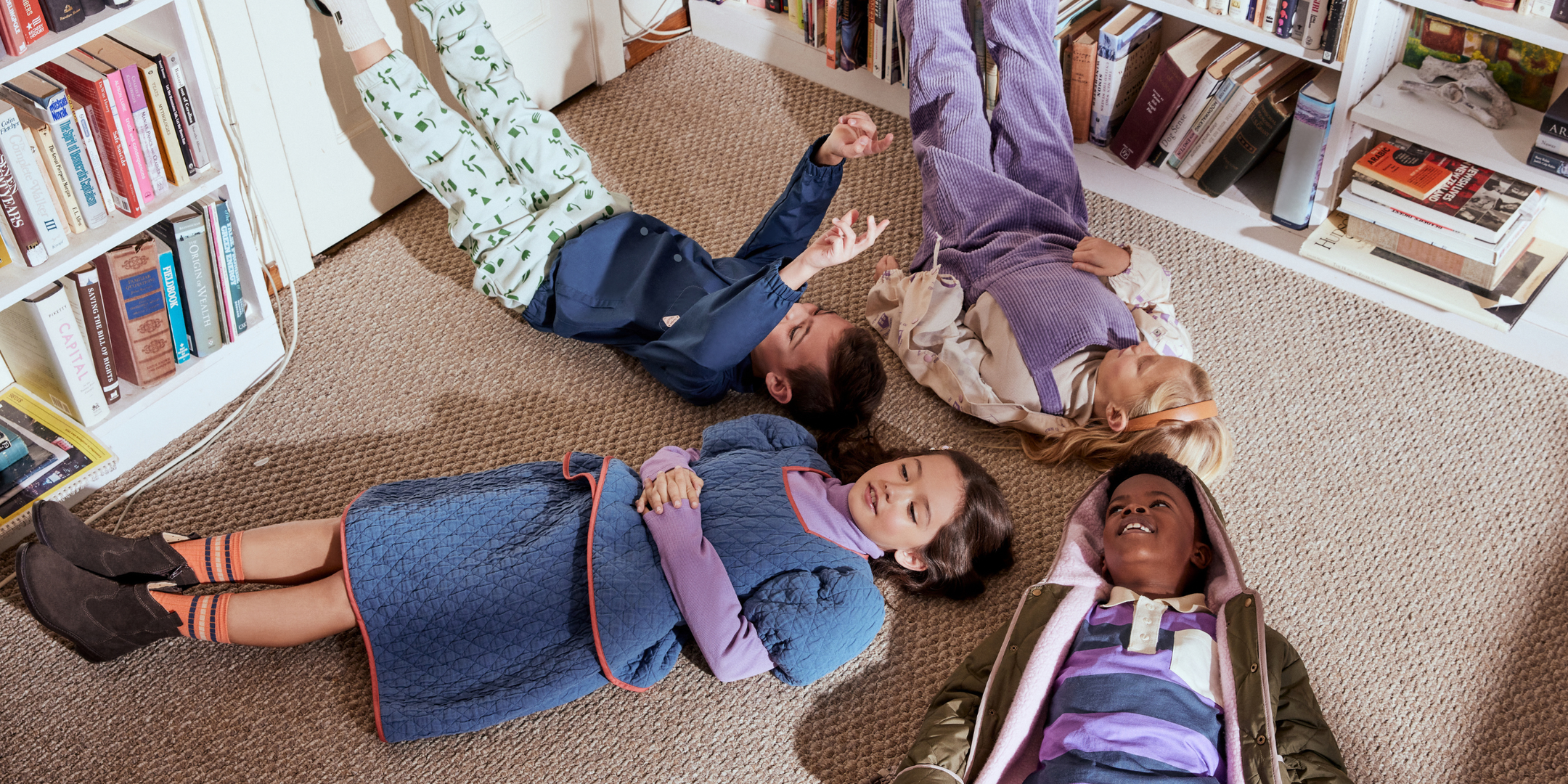 Made for children, inspired by children– our Fall Winter 2023 Collection, Build Your World, embodies the special moments we share with our little ones. The moments when they remind us what genuine kindness looks like, and the importance of not taking life too seriously. To laugh, to dance, to allow our own imaginations to run wild and free. Experiencing in awe how they can build and create with no limitations in mind. We designed this collection to nurture that connection while encouraging children to care for nature and the loved ones around us. 
Build Your World blends modern architectural features with the organic qualities of nature, illuminating a juxtaposition of smooth man-made surfaces and rough natural textures. Touches of refined plaids, stripes, and hand-drawn graphics render across materials like cashmere, merino wool, alpaca fur, and Organic Cottons. Tasteful pairings of bright purples, pinks, and reds synergize with soft hues of greens, blues, and elevated neutrals. Textures from confetti-speckled cable-knit, plush sherpa, smooth velvet, and ribbed corduroy pop along the fabrics, illustrating a whimsical contrast. 
Drawing inspiration from classic workwear, the collection boasts innovative silhouettes with function-focused details like adjustable hems, waistbands, and sleeve lengths. All are designed to ensure each piece is comfortable, cozy, and built to last throughout transitional and cold weather seasons. 
Every style in the collection is versatile and layer-friendly, meant to be worn in and out of the home or classroom. Complementing their favorite fall and winter activities like jumping in leaf piles, twirling in the ice skating rink, or baking warm cookies to escape chilly days. We made Build Your World to energize children to imagine, explore, grow and to build their very own world. We can't wait to see what their limitless imaginations create.
Discover the complete collection here.