The Sunday Collective at Galeries Lafayette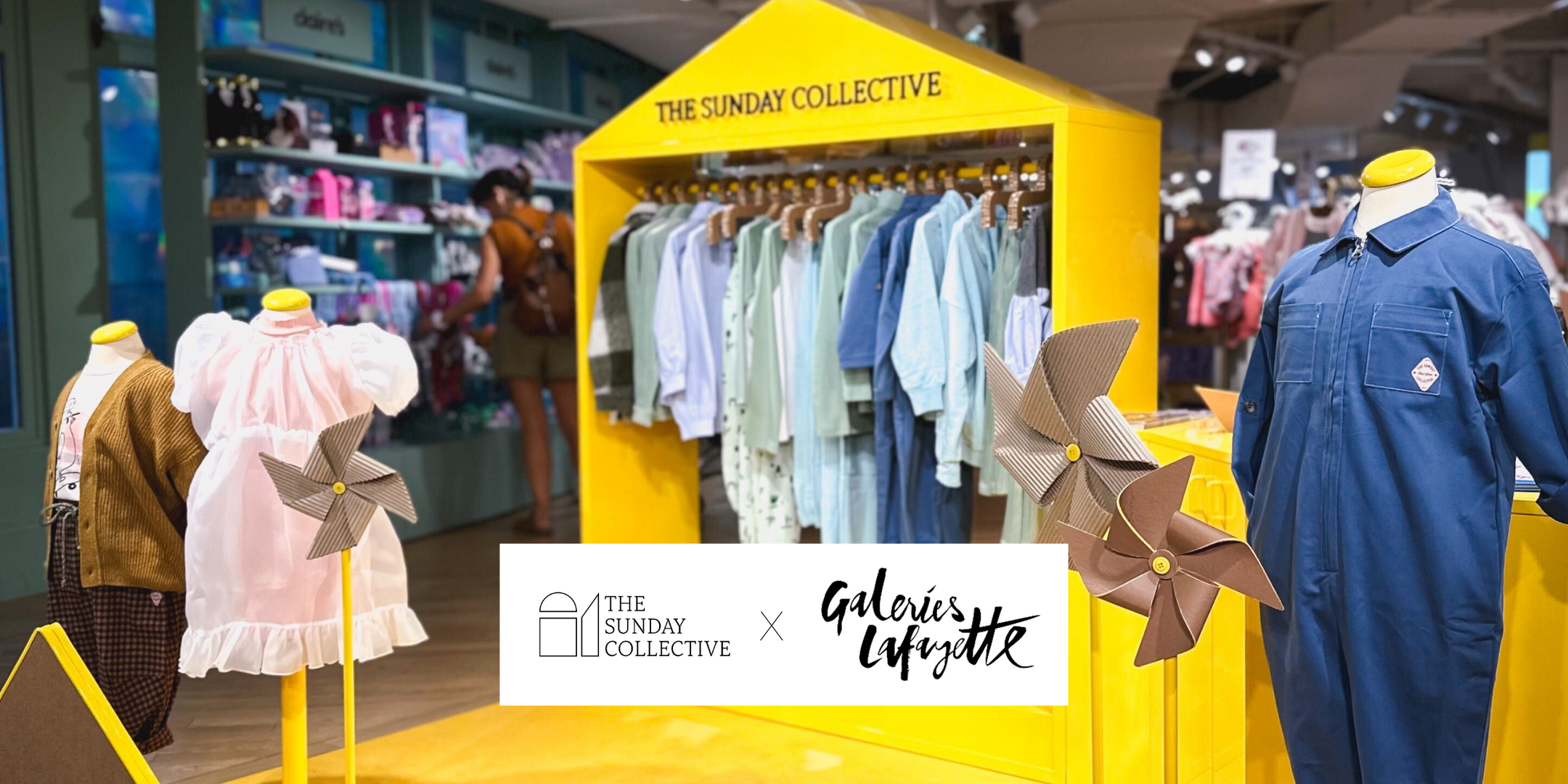 Step into a world where sustainability meets style as we proudly unveil our latest adventure– a pop-up store nestled within the bustling heart of Paris at Galeries Lafayette. From August 17th to October 24th, discover a sanctuary thoughtfully designed for eco-conscious families, where our presence celebrates impeccable style and an unwavering dedication to a more vibrant, environmentally-conscious future. 
Our newest collection, "Build Your World", transcends clothing as an open invitation for children to explore the enchantment of their creativity. It bridges generations, symbolizes love, and transmits shared values through our designs. Featuring sustainable fibers and whimsical hues, the collection introduces cozy textures such as plush sherpa, ribbed velour, and wide-wale corduroy, making them ideal for transitioning through chilly seasons. This space embodies the vibrancy of the collection, featuring playhouse structures, pinwheels, and origami boats that transport visitors into a realm of boundless imagination. 
Wander through our store and encounter warm yellow hues and meticulously designed displays crafted from recycled materials. This intentional selection envelops you in a cheerful and modern ambiance, and echoes our commitment to minimizing our ecological footprint. We fervently believe that style and sustainability can coexist harmoniously and our store's design is a curated embodiment of that belief.
As our doors swing open at Galeries Lafayette, we extend a heartfelt invitation to eco-conscious families, style connoisseurs, and dreamers of all ages. Explore our pop-up store, where the tapestry of style and sustainability is woven seamlessly, and become a part of our collective vision. Choosing The Sunday Collective transcends fleeting fashion trends; it's a choice that weaves a future where style and sustainability walk hand in hand. Together, let's build a world where fashion doesn't just look good – it does good. We are located on the 5th floor of the Coupole shop at Galeries Lafayette Paris Haussmann. Plan your visit here.
Can't make it in person? Explore and shop our "Build Your World" collection online. Your journey into a world of sustainable style starts now. 
For more information or questions about the pop-up please contact us at galerieslafayette@thesundaycollective.com.